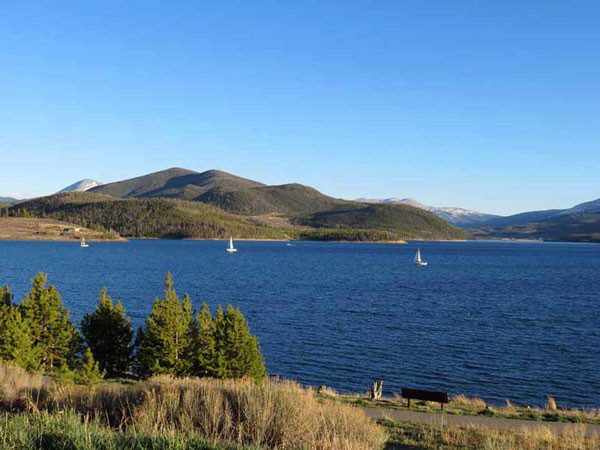 Welcome to Spinnaker at Lake Dillon!
One of Summit County's finest Interval Ownership and Condominium Rental resorts. Located on the shores of magnificent Lake Dillon, we offer the warmth and quiet of luxuriously appointed year-round vacation retreats.
---
---
Summit County COVID Notice
Summit County is in Level GREEN.
Read more…

Summit County has met the key metric for COVID-19 case incidence rate, at less than 100 for more than 7 consecutive days, moving Summit County into Level Green effective May 5, 2021. 

1. Face coverings are required for indoor areas open to the general public and at outdoor events when individuals will be within 6 feet of each other for more than 15 minutes (Ex. Outdoor concert or parade).

2. Masks are not required in the following situations;

i. A band playing at a local bar does not need masks as long as the audience is more than 25 feet away,

 ii. Alone, or with others from their household, in a room in a public indoor space such as a sauna or exercise room,

iii. Private meetings or workplace spaces where all persons are vaccinated and the public does not have access,

iv. Physical activities such as swimming, wrestling, spirit or other sports where helmets/mouth guards interfere with the mask and wearing a mask poses a physical or breathing hazard to the wearer.  

v. Hearing-impaired or otherwise disabled or who are communicating with someone who is hearing-impaired or otherwise disabled and where the ability to see the mouth is essential to communication,

vi. Receiving a personal service where the temporary removal of the mask is necessary to perform the service,

vii. Entering a business or receiving services and are asked to temporarily remove a mask for identification purposes,

viii. Actively engaged in a public safety role such as law enforcement, firefighters, or emergency medical personnel that prevents the user from safely wearing a mask,

ix. Officiating or participating in a life rite or religious service where the temporary removal of a mask is necessary to complete or participate in the life rite or religious service,

x. Giving a speech for broadcast or an audience, if the audience is at least 25 feet away from the speaker. The audience members must wear masks.

3. At this time mask wearing requirements for public venues like restaurants or indoor events will not be relaxed based on vaccination status of business staff or attendees at an event.

We know this is a hard time. We thank you for following all requirements of the current public health order to keep Dillon safe. We hope that Dillon can continue to offer safe, outdoor solace and provide premium customer service during this time while still protecting our community. Thank you for being a partner in this mission.
Enjoy the view over Lake Dillon
The resort and staff have received many awards and commendations for guest satisfaction and outstanding service from international exchange organizations.
Situated in the heart of Summit County, Spinnaker is just a few miles from four world class ski resorts; Keystone, Copper Mountain, Breckenridge and Arapahoe Basin. Vail is just 35 miles away. The Summit County free shuttle stops nearby for easy transportation year-round. We are also within a stone's throw of a bike path linked to a county-wide trail system and close to factory outlet stores for you shopping pleasure.
From your spacious accommodations at Spinnaker, you are just a short walk to the Lake Dillon Marina and Amphitheater, and only two blocks from restaurants, ski shops, bike shops, movie theaters and a post office in the center of Dillon.
Contact us
Spinnaker at Lake Dillon
317 W. LaBonte
Dillon, CO 80435
Phone 970-468-8001